About Mary Beth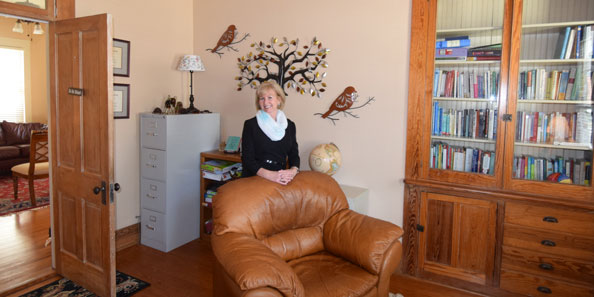 Personal:
The middle child in a family of nine children raised in a family by a mom and dad who were married for life, Mary Beth had a unique opportunity to observe family systems in action from an early age. Proud that all nine children achieved college degrees, Mary Beth believes that her greatest teacher in life were her parents who really "got it right" when it came to marriage and raising kids.
Mary Beth has lived in Central Texas since 1982. She has four children of her own (all currently at universities) and has been married to one man for over 25 years. Her spouse is a cancer survivor, and three of her children are triplets, so it hasn't been an easy journey. Yet she believes that the lessons she learned in her own family systems have given her the confidence and wisdom to help others.
Counseling is not Mary Beth's first career. Her first love was teaching, and she taught high school and college courses in the Business and Communications programs at University High School in Normal, IL, Illinois State University, The University of Texas at Austin, and Austin Community college in her early twenties. Her second career was outside sales, and her third career was being a stay-home mom/PTA volunteer while her kids were in elementary/junior high. During their middle school years, she embarked on the journey of becoming a counselor. She believes that this career really combines the other three in a way that results in successful collaboration of all the experience along the way.
Graduate of the University of Mary Hardin-Baylor with an MA in Community Counseling, a program which is fully accredited by CACREP( the Council for Accreditation of Counseling and Related Educational Programs), the "gold standard" for counseling education programs in the U.S. She also completed 12 more hours of graduate studies in Marriage and Family Counseling from Texas A&M Central Texas.
After passing the necessary exams and completing the required internship and supervision hours, was named a Licensed Professional Counselor and a Licensed Marriage and Family Therapist by the State of Texas licensing boards.
She completed Level 1 and 2 Training for EMDR (Eye Movement Desensitization and Reprocessing) through EMDRIA (the "gold" standard for EMDR training) in Austin, TX and recently earned CEU credits through Dr. Robert Miller's Feeling-State Protocol for Addictions.
Mary Beth interned at the Community Life Center (Belton Texas), The US Army Family Life Chaplain -Training and Resource Center (Ft. Hood, TX), and Scott & White Military Homefront Services (Killeen, TX). She has counseled soldiers aged 17 and up, military and civilian spouses and partners of all ages, and children aged 3 and up. Her sessions included individuals, couples, and whole families, and she is well-versed in counseling for a variety of issues including affair recovery, depression, anxiety, trauma recovery, military family life issues, midlife crisis issues, grief/loss, recovery from childhood sexual abuse, addiction/codependency issues, and many others.
In addition, Mary Beth worked as a Military Family Life Consultant at an elementary school in the Killeen Independent School District for over half of a school year. The position gave her a real insider's view of the public school system and increased her empathy for students and teachers as they respond to the pressures of education today.
Mary Beth is a member of American Counseling Association and the American Association of Marriage and Family Therapists and EMDR International Association.
If you have questions contact us.